Heather's story came to light after a series of articles in
The Standard
about the former Tower Hill Records label run by Lindsay Moorhouse.
"We were the first, and I'd say the most successful, on the label," Heather said.
"Lindsay had a little studio in his house in Warrnambool and we did it all live there. I don't remember a whole lot more about it. It was a very small set-up - That's why we were amazed at the great sound he got out of it."
The Ramblers recorded two EPs and a 13-track LP,with the country songs written by Heather's father Willand band member Ray Batten, who also served as lead and hawaiian steel guitarist.
Hilton Boyle (guitar) and Vern Brown (drums) Joined Heather on bass in the popular band.
"I was pretty rare as a female bass player in those days," Heather recalled.
One of the songs
Tower Hill So Beautiful
may have been the first to pay musical tribute to a local park.
The album received airplay on country stations throughout the state and even at Tamworth and helped the Western Ramblers on an extensive touring schedule.
"I've still got the tapes of interviews we did on radio," Heather added.
"I remember going down to Cooriemungle prison farm. I've still got the slippers one of the prisoners made for me. We really enjoyed that. The prisoners were only there for minor matters. I remember they did their own cooking and the food was great."
Heather also remembers her first solo gig.
"It was for the hospital appeal and I was this nervious little thing. I was there till 11 o'clock that night. People were running up saying they'd donate $5 if that little girl would sing another song."
The Western Ramblers were recruited for appearances on
Reg Lindsay's Country Hour
and later
Country Homestaed
out of Brisbane.
Heather also secured a solo spot on the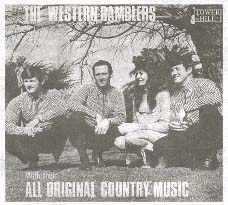 show which led to a long-running association with the popular music icon.
"We went everywhere. It was a great time."
During the 1970s Heather decided to change her stage name. "Reg's wife was Heather and so I decided to become Donita Dey."
The name Donita came from Buddy Williams' daughter who was killed in a vehicle accident and Dey from actress Susan Dey.
Her musical outlook expanded with her new moniker. "I started doing more 50s and 60s rock 'n' roll when I became Donita."
Then based in Sydney, her outlook also expanded to the US. "I went over with Reg Lindsay and I liked it so much I kept going back. We did live shows, TV and some recordings in L.A. and Nashville."
One song,
Warm Sheets
was ranked number one in public response on a Los Angeles country radio station, beating a tune by TV actor Dennis Weaver.
That song also earned Heather/Donita a nomination as best female vocalist at Australia's country music awards at Tamworth. She also branched out into interviewing American music and television stars for radio in Sydney. Hank Williams
Jnr, Elvis Presley's guitarist James Burton, Dirty Dozen Clint Walker, Lyle Lovett ("a real gentleman"), Jim Reeves' widow Mary and Brenda Lee were among her subjects, all of whom provided a signed photograph as mementoes.
"That was really a highlight, meeting and interviewing those great people.
"I think my best years were working with Reg Lindsay, Buddy Williams and Frank Ifield."
Heather/Donita became a regular on the clubs circuit throughout Australia in the 70s - 90s but stepped back from her musicical career in 1998.

"I seem to have lost a bit of motivation," she admited.
Heather said she narrowly missed out on a recording contract with RCA Records.
"I was playing at Tamworth and exectives RCA came out to watch. They were going to pick out songs for me to record and put me on RCA but they cut down on staff and the one supporting me were among those to lose their jobs."
That was one regret - but it paled beside the biggest regret of my career.
"I was in Nashville when my dad passed away. I didn't even know he was sick."
About six months ago Heather returnes to live at Mortlake, after three decades in Sydney.
"I went to school here and played a lot around here.
It's not a bad place to retire.
"I regret that it all went so fast. I did a lot of things wrong - I never had anyone to advise me - but I loved it and I don't have too many regrets."