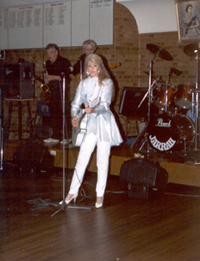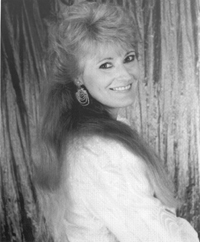 8 track CDs available

Donita & Digger Revell During a
Recording session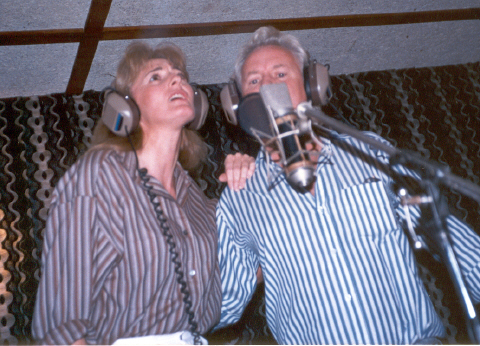 She's Back
Ready to perform, and a new album to be released soon


Donita is BUSTING OUT again in a very special tribute show Remembering The Great Australian Country Music Legend


Reg Lindsay


Being staged at the 2016 Tamworth Country Music Festival coinciding with the release of her NEW CD on the 21st January.

Donita's 8 Track CD is available

To order your copy


Send $10.00 Money Order to


Donita Dey
C/- Post Office
Mortlake Vic 3272
Free P&P to anywhere in Australia
For overseas postage cost send an
Email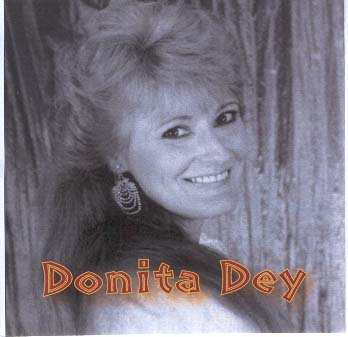 Donita's 8 track CD is available for your enjoyment at a very friendly price of just $10.00 - includes packaging & postage anywhere in Australia.
These 8 great tracks have been performed beautifully, this is an album to add to your collection, you'll love it!
| | |
| --- | --- |
| 1. Blue jeans on my chair | 5. After the last goodbye |
| 2. Heaven's just a sin away | 6. You're free to go |
| 3. I'll be there | 7. I'll need you strong |
| 4. Too much is not enough | 8. Wasn't that love |
---
Born in Victoria, Donita attended school at Warrnambool and Mortlake. Teaching herself to play guitar and having some lessons to learn bass.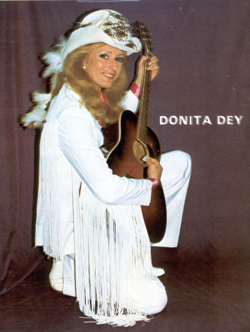 At 17 years of age Donita performed her first gig singing solo, live, to air on Radio 3YB for their Hospital Appeal Day. Soon after the band "The Western Ramblers" was formed with Donita doing vocals and playing bass with 3 local lads. The group recorded 10 songs written by her father with EP's, Singles and an Album on the Tower Hill Record Label. The Westerners were very successful in Victoria with their own weekly half hour radio program on 3CS out of Colac as well they made appearances on the "Reg Lindsay Country & Western Hour TV Show".

At the age of 20 Donita left the group to go touring with "Buddy Williams" for six months, after that a move to Sydney to try the Club Scene. Working as a Security Officer at Waltons Department Store during the day and singing at night. Whilst there was not much time to sleep, Donita enjoyed the life of an entertainer so it wasn't too long before a full time entertainment career was embarked upon. Doing many tours with "The Singing Kettles", "Men of Country", "Grand Junction" etc. as well as doing her own club show.
Many of Donita's tours included small towns with the venues being mostly in halls. We even had to set up the chairs for the audiences as well as put them away and clean the hall after our show. Touring the Aboriginal Missions was such a learning experience, as Donita says "it was an experience I wouldn't have missed, how different and what wonderful audiences".
Donita says that Tamworth was a part of her life for just a few years. She appeared on their "Must Be Country T.V Show" which was as Donita says "Lots of fun" Donita only ever entered one of her singles at the Tamworth Awards and was placed in the finals of Best Female Vocalist. The song was "Warm Sheets, Can't Cover Up Your Cold, Cold Heart" which didn't win, but what an honour to reach the finals. Donita's many trips to America prevented her entering more of her singles in the years to follow, for which I know she is very regretful.
In the US she had a number one hit in California with her Tamworth nominated single "Warm Sheets, Can't Cover Up Your Cold, Cold Heart". Donita's trips to the US back then was not the done thing and she lost some popularity at home for doing so.
Donita worked in the US on T.V. and with "Hank Williams Jnr" and with "David Allan Coe" riding in David's touring bus. When Donita did her spot on the show David would stay on stage and play along on guitar. Donita recorded on "Pike Records" in the U.S
Donita had her own booth at "Fan Fair" and was voted No1 on L.A radio newcomers list. As well as performing she was doing interviews on tape of major artists for Australian Radio 2KY.
The master tapes of those interview are still owned by Donita. Interviews with Emmy Lou Harris, Hank Williams Jnr, David Allan Coe, The Bellamy Bros, John Schneider [Dukes of Hazard],
Willie Nelson, Stella Parton [sister of Dolly], The Statler Bros, Jerry Reed, Ed Bruce, you name them, she's talked with them.
Another blast was to record an old "Jim Reeves" song with "Stella Parton" [sister of Dolly] doing the harmonies. Donita has loads of great memories of her time in the U.S where she also played the "Worlds Fair" in New Orleans.
At about 24 Donita started working with "Reg Lindsay", doing her own spot and harmonies. She was pretty much full time with the show and appeared on Reg's "Country Homestead TV Show" with many great artists.

A disapointment for Donita was to miss the opportunity to complete a recording with RCA here in Australia after arrangements were made, and before starting there was a change of management at RCA and somewhere along the way the idea of her recording was lost. The last record she did was with "Digger Revell" called "Too Much Is Not Enough" some copies of the recording are still available.

Another part of Donita's life that she enjoyed very much was working as an extra in movies and as a regular extra on the last five years of "A Country Practice". Although now retired, she has had many years of incredible pleasure and worked with so many of the Name artists that have been a joy to know. Her favorite is "Reg Lindsay"

Donita says " What a wonderful man. I cannot speak highly enough of him. Whoever worked with Reg was always treated well and enjoyed what they did. I feel Reg was very much before his time. His songs were quite modern, the musical backing very tasteful and yes, he went to the USA when it was not the accepted thing to do by an Australian. He had a very promising career there, signed to a record label and was very well liked. Many of his fellow artists were his friends and have stayed in touch with him over the years. I know "Hank Snow" and Reg were great mates.
I have a great respect for Reg and being the incredibly talented man that he was I had great pleasure in organising two benefit shows for him after his illness ruined his career. I would like to find a sponsor so I could do a special tribute show for him.
Reg loved life, laughing and telling stories. I have one to tell on you Reg.
The band were on stage and started to play the opening instrumental for the show, the curtain was to slowly open, but it didn't. So, Reg without his glasses on started pressing buttons on a control mounted on the wall backstage. Finally with curtain still closed we heard banging, crashing and screaming from the audience. Reg with his bad eyesight had pushed the button to extend the stage and it was moving out pushing people, tables and chairs in all directions.
The stories so many of his friends could tell could fill a book, a movie, or a documentry.
who wants to help me do something more for one of the greats who has so many achievements to his credit. My dear friend Reg.


Why has he been virtually forgotten??


Donita.